Posted by Dave on Sep 21st 2023
As we busily prep exhibits for our big fall boat shows (Annapolis Sail and METSTrade, I thought it would be a fun to fire up the wayback machine and have a look at the Edson booth from the 1991 Annapolis show. It was a much different boating environment back then - there were over a dozen healthy US sailboat builders and a 27' center console was huge - and Edson was a much different company in a much different market.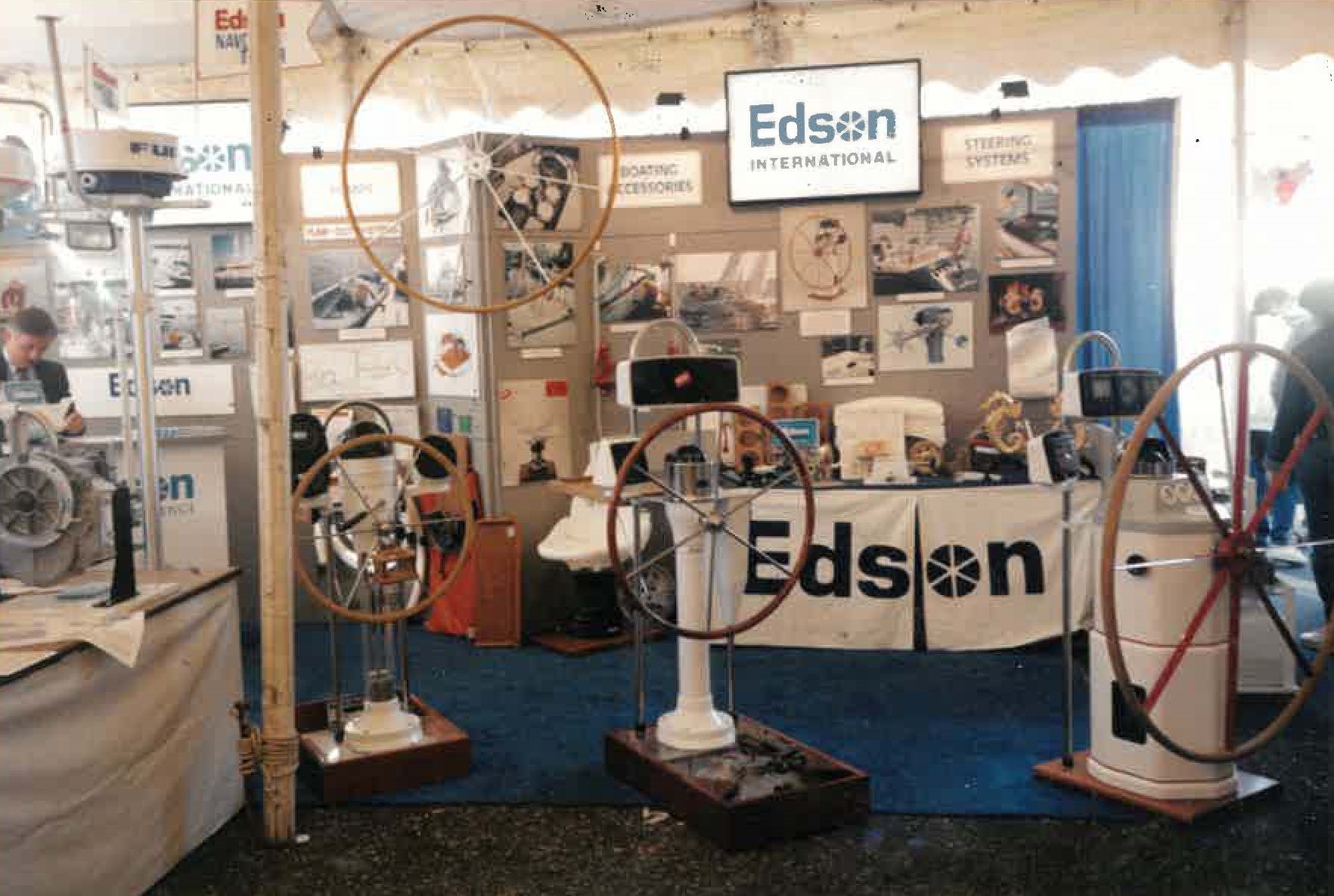 Photography was also much different back then - these are scans of 30 year old film photos, so apologies for their lack of crystal clarity. The first observation is to take some credit back from current Edson. We showed a transparent steering system last year, in order to help people better understand the magic that happens out of sight between the steering wheel and rudder. The pedestal at left above has a transparent column, and the middle pedestal has a transparent floor which makes the quadrant visible. Ours is a bit more developed from these, but bravo because these are pretty cool. If we briefly cast our gaze to the rightmost pedestal, what glorious science is that?!?!? Your cockpit's very own R2D2? Is there a porta-potty tucked in there?
You can tell it was early days for electronics as the original instrument pods are all over the pedestal guards. The fanciest of the fancy people might have had GPS by then, but most were still on Loran-C or RDF (for when you REALLY didn't want to find Block Island) back then. Ahh, the good old days!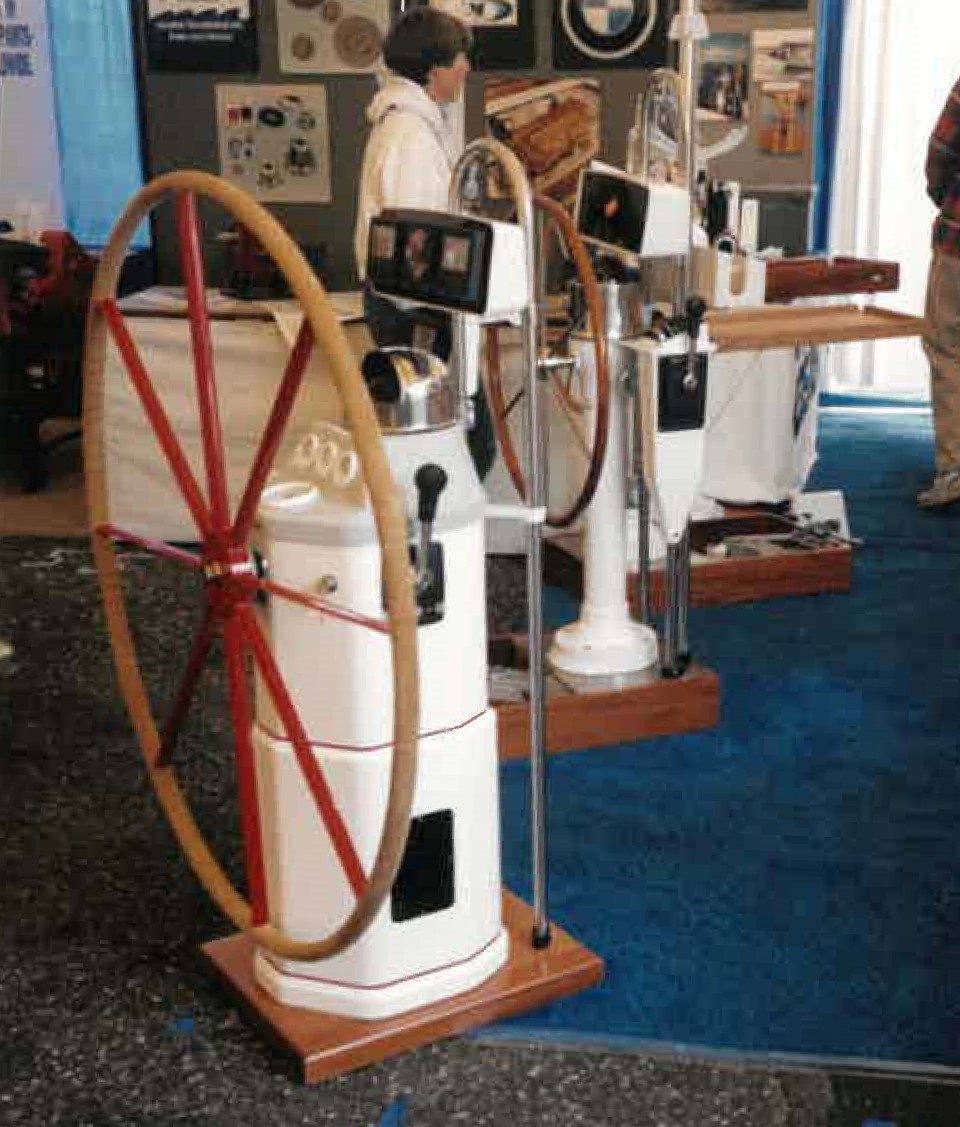 Isn't she lovely? No one in the building has any memory of this beast, so either this is the only one ever produced or everyone has repressed the memory. The red-powdered Diamond Series wheel adds a nice touch though.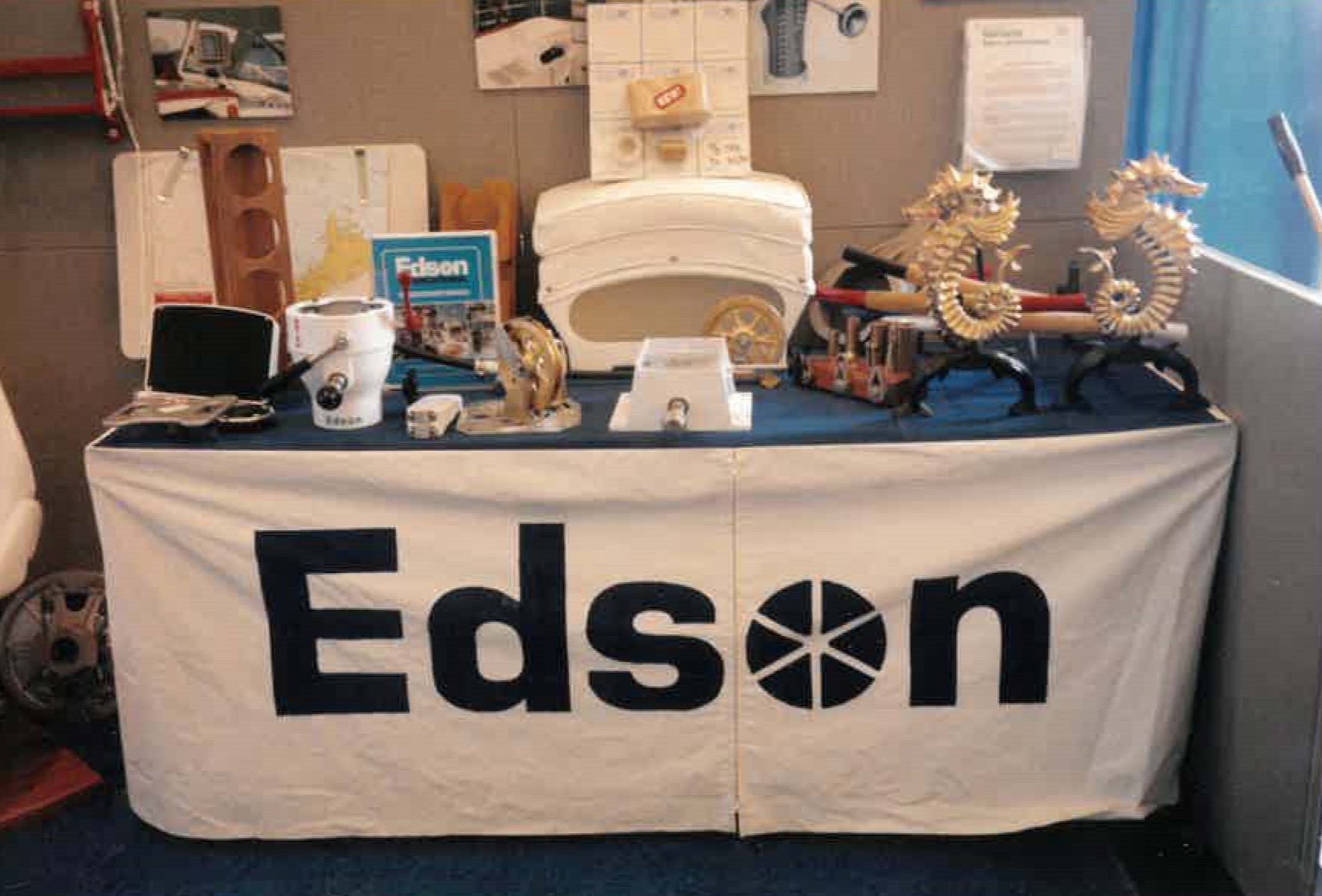 We'll actually have an updated and severely edited version of this table at Annapolis this year, as we did last year. A pedestal head and idler will be there for illustrative purposes. The instrument pod and whatever the seahorses that look like menu holders at a questionable Asian fusion take out restaurant will be absent.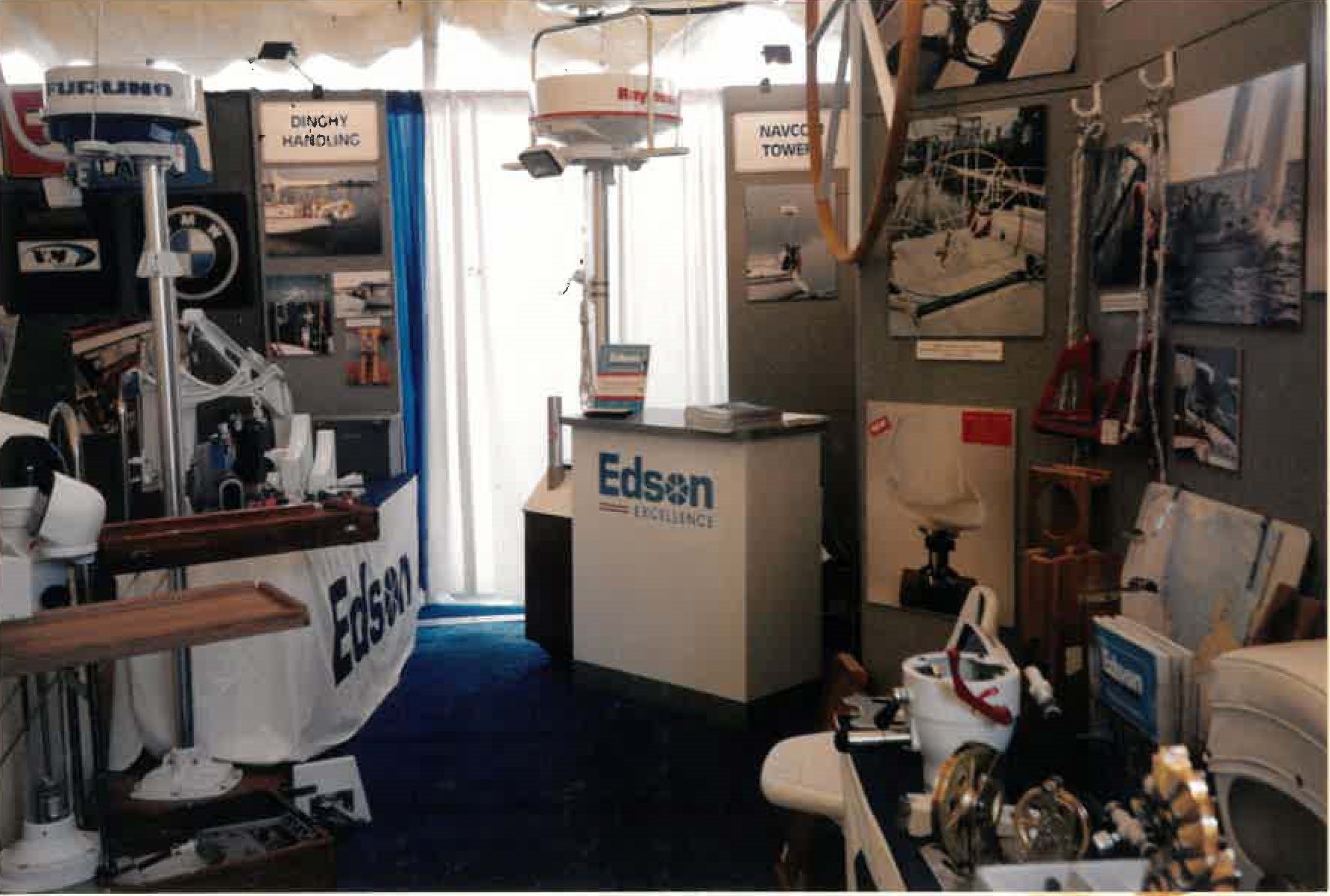 If you look closely at this one, you can see a REAL treat from the past - the winch chair! Seeing this sucker flicked on a memory switch in my head. The seat had a winch handle socket plug in the bottom, and after a hard day of sailing you would muscle this beauty out the companionway and into the cockpit for some well-deserved vinyl upholstered relaxation. Probably while wearing a rugby shirt and some Vuarnets. So awesome. Kudos for the innovation, though.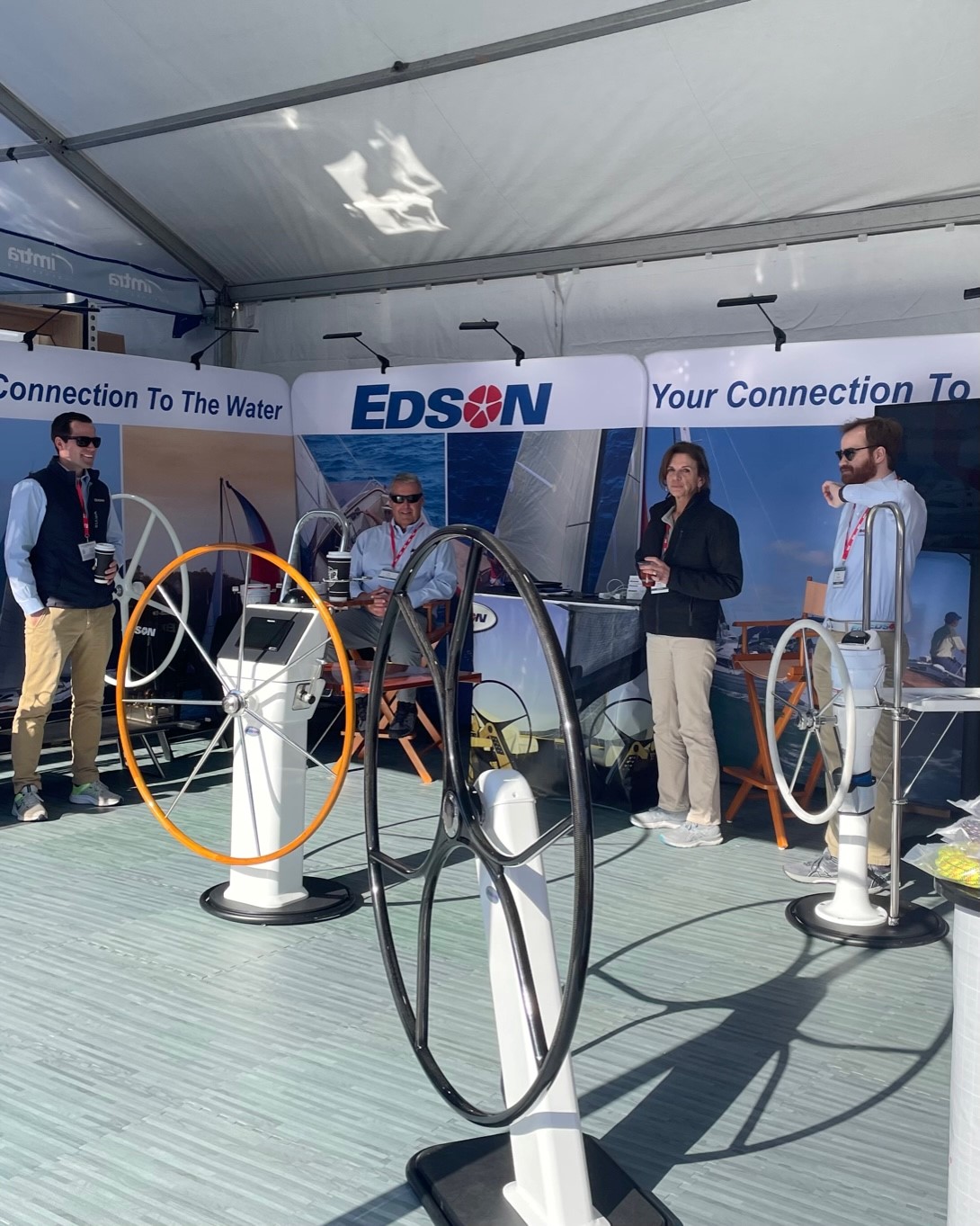 Edson did a whole lot of boat shows back in the day, and total pros at it, but I would suffer emotional trauma with that much stuff in that little of a space. We now choose a more open feel to the booth, leaving visitors more space to interact with the gear and more room to engage with our experts. The small parts and infotainment center is behind Matt and his gigantic tub of boat show coffee. Despite the changes and different approach, so much of what the old company stood for and was loved for is still around.