Posted by Dave on Oct 19th 2022
What a great show at Annapolis this year, and this coming from a reluctant boat show participant. With Thursday morning and pack-out time as notable exceptions, the weather was fantastic which brought out big crowds. Normally, there's a formula of x = crowd size * crowd quality, where "x" is a constant. This year seemed to break that convention, with large crowds of very interested people throughout.
Our presentation this year was significantly refreshed from prior years, with new backdrops, a much sparser product lineup, and a focus on functional displays that explain our systems and educate people about them. This was led by our new "invisible pedestal" (red circle in the below photo) which lets people see the bits of their steering that are normally hidden from view. This was a huge hit and we'll do a quick video using this display soon.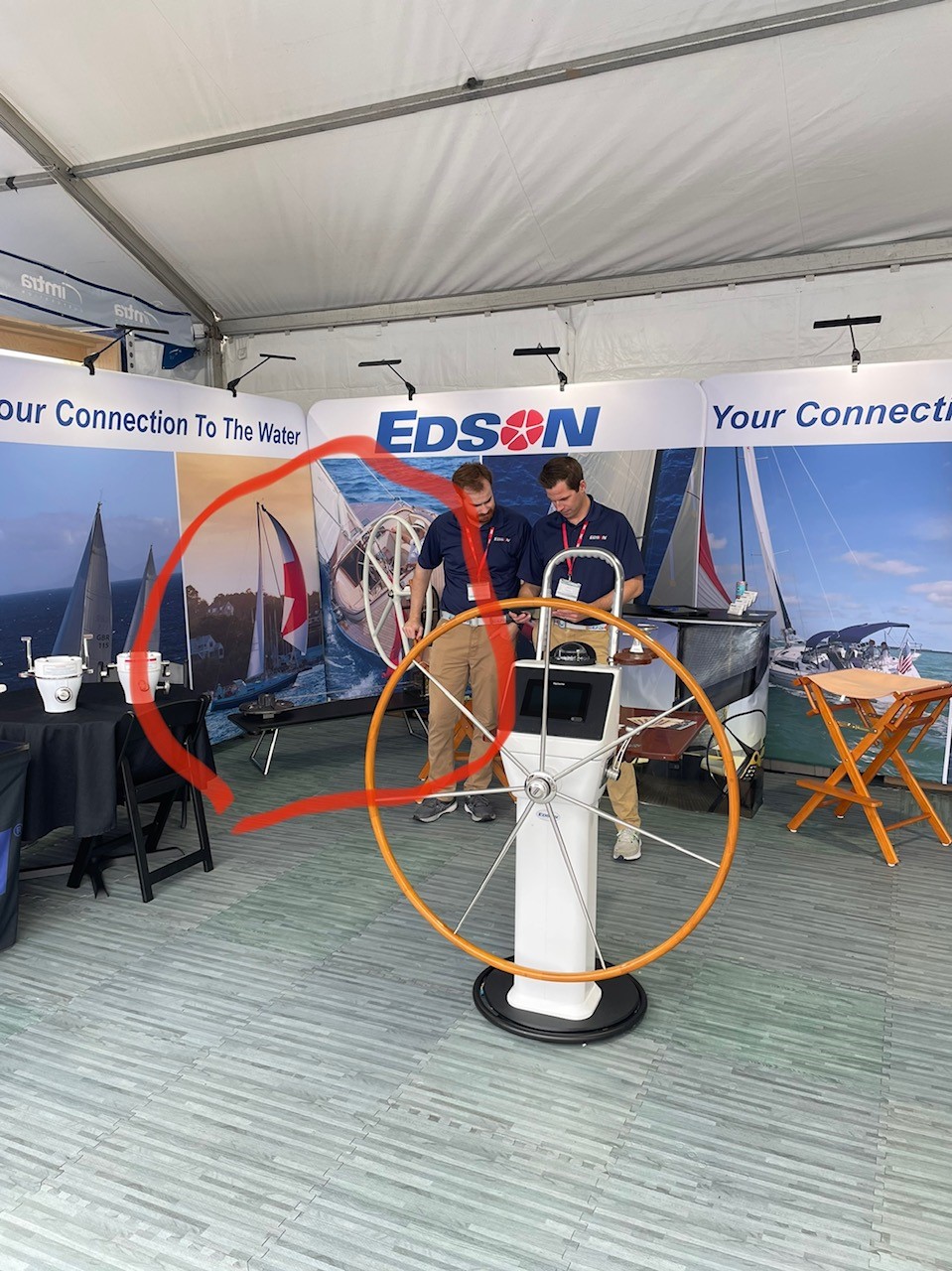 On Saturday afternoon, we hosted a panel on "older boats for new owners" with experts from Marlow Ropes, Hayn Marine and Precision Sails to shed light on their various areas, and moderated by the crew from Captain Q. This was a huge hit, with a lot of great questions coming from the field. The biggest takeaway was that an ounce of prevention is a lot less expensive than a pound of cure - no surprise there.
One surprise from the show was the number of people interested in doing a complete pedestal replacement. Maybe this shouldn't be surprising given the huge number of aging "sailboat boom" boats out there changing hands, but people with more depth of experience in the Edson booth than I have noted that the interest around this was notable. We had some (hopefully) interesting things on the board before the show, which are encouraged by what we heard in Annapolis. While that was the most memorable and impactful thing we heard, there is still tons of interest out there in sailing and boats, which is personally and professionally nice to see.
There was also a ton of interest in Carbonautica wheels, which we were proud to show as the new North American distributor for their great products.
As always, the chance to catch up with other companies and work together on making ever better and more seamless solutions for you was great.
Next up on the show agenda is Fort Lauderdale, where we don't exhibit but where we'll have a super secret weapon to show our powerboat OEMs (which we'll be mouthing off about here before long).