Posted by Dave on Aug 29th 2023
Hurricane season officially runs from June 1 through November 30, but since half of the worst tropical storms in the last 100 years occurred in September, we're on the doorstep of the historical height of the season. Idalia bearing down on Florida this week only reinforces that point. Late summer and early fall offer so many great things to do on the water that no one wants to miss it, but it does come with a bit of increased risk.
With this in mind, we had a little round table here about how to prepare boats for storm season in general, and specific actions to take as storms approach. We're fortunate that modern meteorology is usually able to give us warning before significant storms, even if The Weather Channel likes to overhype things. Edson's President Chip likes to break big storms into two categories – bad and really bad. Bad storms bring 40 to 60 knot winds, while really bad storms are the 60+ knot hammers that come with significant storm surge and other fun. Since he's the boss, and also because it's a good delineation, we'll use Chip's framework.
Of course the number one rule in all of this is to ensure the safety of yourself and your crew. Boats are easier to fix and replace than bodies.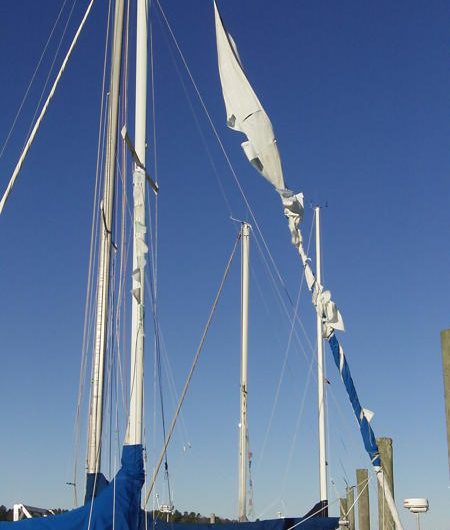 Top of the list on general preparedness is ensuring that your mooring or slip/dock is in good shape, and the lines and chafe gear are ready for their busy season. Following just behind is a thorough check of all standing rigging and terminals. Deck hatch and port integrity is high on the list (rains, spray and waves can cause major problems), as is ensuring that your bilge pumps are in top shape. The more generally well-prepared your boat is, the less stress you'll have doing the specific things needed to get ready for the big storms.
So you get the news that a bad (but not likely really bad) storm is headed your way. Here's our list for that:
Double check items from above general list, and double mooring and dock lines. Ensure that dock lines have enough scope to accommodate extreme tide ranges.
Remove and stow any headsails on furlers. Furled headsails create significant windage in normal wind conditions, and wind power increases as the cube of wind speed. It's too easy for a storm to destroy a furled sail, and when that happens the drag on the sail increases massively, further stressing the ground gear.
Wrap mainsail cover with line to prevent excessive windage and flapping.
Remove bimini or other large exposed canvas.
Remove and stow all deck toys – kayaks, SUPs, paddles, etc.
Haul dinghy and any other boat that can be brought ashore and stored on land.
Securely tie steering wheel/tiller with rudder centered. Don't rely on the wheel brake in a storm!
Haul if required by insurance
That list should see you through most severe, sub-hurricane storms. For storms approaching hurricane strength or higher, we recommend the following additional steps:
Remove mainsail
Remove dodger
Haul boat (especially if required by insurance) or seek shelter in a hurricane hole
Remove covers from land-based boats and ensure drainage ways are clear
Once back home, don't forget to address your patio furniture and other things that can blow around, become damaged in the wind, or become projectiles.
Did we miss something? We'd love to hear your best tips and tricks.